A-Team 1983 GMC G-Series (G-15) Van


The A-Team television show ran from 1983-87 on the NBC network. The plot revolved around a group of ex-US Special Forces personnel, real independent spirits, who were on the run from the US Army relating to a "misunderstanding" from the Vietnam War. The group operated as mercenaries in the western United States going up against all types of crooks, criminals, gangs, terrorists, dictators and bad guys - helping out those who were down and out. The A-Team comprised of "Hannibal" Smith (George Peppard), Templeton "Faceman" Peck (Dirk Benedict), H.M. Murdock (Dwight Schultz), B.A. Baracus (Mr. T) and B.A.'s black 1983 GMC full-size van.
GMC G-Series (G-15) Van Details
Year: 1983
Make & Model: GMC G-Series (G-15)
Engine: 350 c.i. V-8
Carburetor: Two barrel carb
Transmission: Automatic Transmission
Wheels: 15" American Racing 14 Spoke wheel with 60 Series BF Goodrich Sport Truck T/A radials
Color: Black and Gun Metal Grey with a Red Stripe
Other Notables: Quad tip exhaust, custom rear wing, mobile telephone and radio, sun visor, heavy duty rear air shocks, full front brushbar, fog lights, white bucket seats, shag carpet and a custom gun storage case.
The A-Team GMC van belonged to master mechanic B.A. Barachus and was their official mode of transportation. The van went went through numerous accidents, gun battles, insane jumps, was stripped apart and abused in just about every imaginable way - only to be put back together by B.A. The gun storage case contained Ruger AC556 fully automatic rifle, with folding stock and flash hider firing 5.56x45mm NATO rounds.

The van was not the only car featured in the show. "Face" was often seen with a flashy white 1984 Chevy Corvette. The Corvette for the A-Team TV series was rented from a Los Angeles rental agency and was plain white, with the temporary red stripe put on every time it was used in taping a show.
Video compilation of the A-Team cast and their GMC Van
Pictures of the A-Team's GMC Van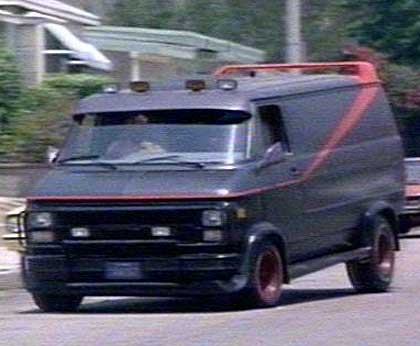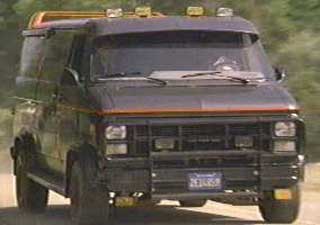 Picture of the A-Team (Face's) Chevy Corvette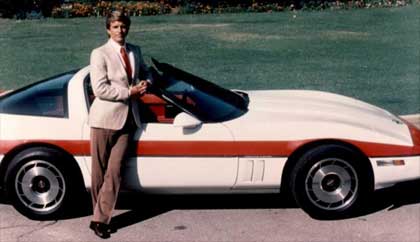 Although many men would love to own a Corvette just like Face's, it might be unwise to buy one without discussing it with their wives first. Successful married couples usually have good communication which can help them avoid filing for divorce with a divorce attorney Columbus Ohio.